Our beautiful Mawley Milk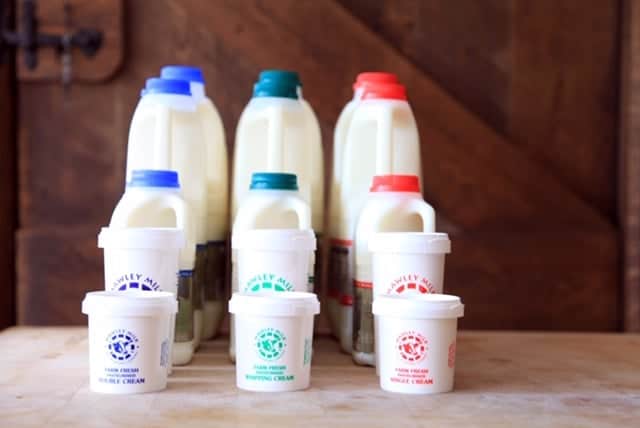 Whole milk less than 4% fat, semi skimmed 2% fat, skimmed, virtually fat free. Available in 1, 2 and 4 pints
Double, whipping and single cream available in 142ml, 250ml (retail) and 1, 2 and 4 pints (catering)
Mawley Milk is bottled freshly 6 mornings a week in our on-farm dairy and is pasteurised but not homogenised. Our milk is 100% single origin from our own herd of cows and is delivered directly from the farmgate. 
We supply to homes, schools, farm shops, coffee houses and chefs in Shropshire, Worcestershire and Birmingham City Centre.  We love our milk –  don't just take our word for it, try it yourself!  To find your nearest stockist, do get in touch.  
For information about the Mawley Holsteins, click the button below
Non-homogenised cream is naturally lighter than milk and should rise to the top, however standardised homogenised milk has been through a process that forces the cream through a fine sieve to break it into smaller molecules to distribute it evenly throughout the milk. OUR milk has not been homogenised and is closer to its natural state, which is why once it has settled in the fridge, you notice the small and very tasty cream line start to appear.
you can TRUST
Happy cows, fed with our home grown oats, wheat, barley, maize & rye grass.
you can TRACE
Mawley Milk from our lovely Cows straight to your fridge. FRESH & HEALTHY, no food miles here!
you will LOVE
Nothing works better than Mawley cream and berries. Fresh, natural and beautiful.
Our milk is bottled in HDPE plastic, which is the most widely recycled plastic. Some of our bottles are made into 'bags for life' others are  washed and pelletised in processing plants to be made into new milk bottles here in the UK.